Neon is the interface for case and image data organization integrated in all Ikaros and Metafer installations. MetaSystems solutions are designed to address particular imaging and image analysis tasks. Neon collects the data from any imaging job and also from external sources and presents them in a comprehensive and versatile case management dashboard. Hence, Neon always has the most relevant information for the user at hand; fast, secure, and no matter from where the information originates. Strong data management algorithms, several convenient display modes, and many options for selecting and filtering content make Neon the perfect basis to organize large quantities of heterogeneous information.
HIGHLIGHTS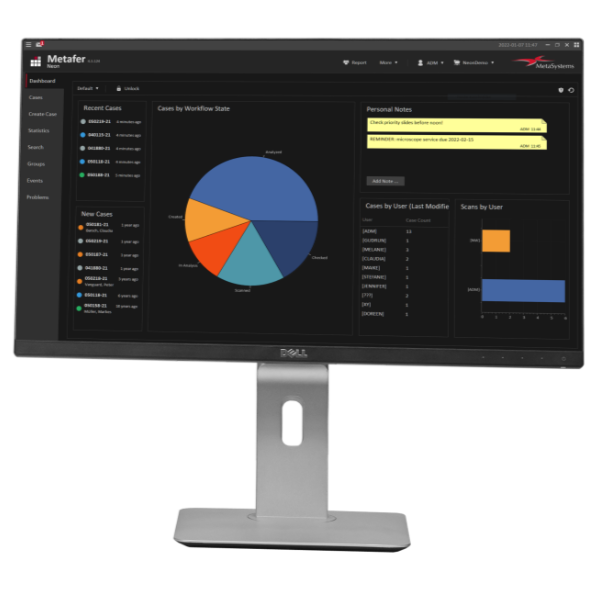 Convenient interface for case data and image management.
Configurable dashboard to clearly summarize new and currently processed cases, processing statuses, urgent cases, case statistics and much more.
Customizable case overview with quick filters and sorting options.
Quick search by case name, patient data, results, and many other parameters.
Advanced search with the possibility of logically linking search terms.
Extensive, customizable case data sheets with text, selection, multiple selection, number, and date fields.
Many pre-configured data fields as well as the possibility to define your own data fields.
Flexible and easy definition of import and export interfaces for data exchange with external databases.
Graphical report editor for creating beautiful report templates with access to all data fields and images as well as external files (e.g., institute logos).
Multi-level user management with the possibility to define own roles.
Secure password management, encryption of all data, and complete logging of all processing steps.
DESCRIPTION
In laboratories, data are usually generated from many, sometimes unrelated sources. Ikaros and Metafer have been enhanced with Neon to collect data and images, display them concisely, and merge them into an efficient and well-structured workflow. Neon reliably manages cases, images, and results of single workstations, as well as of large multi-user installations. It guarantees that all relevant information is visible whenever and wherever it is needed. Users of Ikaros and Metafer always have access to exact information about case status, history of images, analysis results, and much more. Data import and export, even with customized data fields, and global, cross-application reports facilitate daily work.
Neon helps to gain maximum control over all imaging and data handling procedures. Patients, physicians, and technicians benefit from consistent documentation, secure handling of sensitive data, and user-friendliness in all procedures. Neon's flexibility assures seamless integration with existing procedures.
Neon is prepared to create, to handle, and to archive case and image data in a highly convenient and secure manner. Neon users can set up customized data sheets to enter case data, which can contain the own user-defined data fields. Once entered, all information can be retrieved very easily, and case and/or image lists can be filtered based on any of the entered criteria. Of course, it is alternatively possible to import information from external laboratory information systems. If images are acquired using a Metafer operated slide scanning system, they can be identified by the information on their bar code labels: Neon takes care that the sample information is automatically merged with the respective case.
All data are useless if it is not possible to summarize them in a convenient and transparent way. Neon offers two strong tools to achieve this objective: the powerful case statistics package and the reporting engine with graphic template editor. The statistics package can be used to query all data and to summarize the results graphically (e.g., as a histogram), and as tables. Results of queries can also be implemented in report templates, which can also contain results of Metafer scans, images from the Ikaros karyotyping module, and of course any information entered to the case data sheet. Reports can be printed, saved as a PDF file, or exported to external software, thus, allowing providing the results of your analyses to your clients, or sharing them with colleagues everywhere in the world.Neon cares for data integrity and security. Each installation comes with an integrated user management, which can be activated on different security levels. In smaller workplaces, where secure user management is not required, it is possible to switch off the password protection. In labs with high security standards, users are required to type in usernames and passwords. Features like minimum password lengths, password expiry dates, and required password formats can be set by the administrator.
Access rights can be precisely defined and assigned to certain user groups. Administrators can define (and delete) new user groups and provide each group individually with the required rights.
Neon routinely generates several log files. In addition to the logs with system events, there are also error logs, server logs, and case histories. The latter contain each single change of case related files, either of images or of case data, and can be accessed conveniently from the case view. Users with sufficient rights can even add history entries here, for example, to document actions that happened outside Neon.